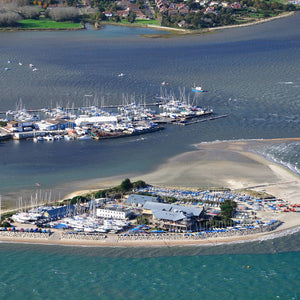 Total experience time: 45 minutes
Total flying time: 20 minutes
Just £109.00 per person
Important information regarding weight restrictions
You will be with us for at least 45 minutes which will include a full 20 minutes of flight time in the helicopter and in which time you will fly over 25 to 30 nautical miles of beautiful English countryside. You will experience the exhilaration of a helicopter flight as the aircraft lifts off, hovers and then transitions away into forward flight. You will climb to between 1000 and 1200 feet and fly over beautiful English countryside at speeds of 100 to 120 miles per hour.

From Goodwood Aerodrome
This 20 minute helicopter sightseeing flight will offer you an unrivalled view of the Goodwood Estate (Goodwood Motor Racing Circuit & Aerodrome, Goodwood House, and Goodwood Racecourse). Once clear of the aerodrome circuit you will embark on an aerial tour of the magnificent southern coastline including Wittering Beach and Chichester Harbour and Chichester Marina. You will view Chichester and it's Cathedral with a 'birds-eye view' and on a clear day Portsmouth, the Isle of Wight and the South Downs will all be clearly visible to you.
Don't forget to bring your cameras and camcorders along to catch the magic moments.
For further information please see our FAQs and Terms & Conditions.
Check out our fleet of helicopters.
Available dates
2023
Sunday 19th November
2024
Sunday 21st January
Sunday 18th February
Mother's Day Sunday 10th March
Easter Saturday 30th March
Sunday 21st April
Bank Holiday Monday 6th May
Saturday 25th May
Sunday 9th June
Sunday 30th June
Sunday 28th July
Thursday 1st August
Sunday 11th August
Sunday 29th September
Saturday 12th October
Sunday 27th October
Sunday 17th November
Specification 
Information
A 20 minute Beaches & Bays Sightseeing Tour covering a distance of approximately 25 nautical miles, including a pre-flight briefing. Full on-site facilities available. Spectators, cameras, and camcorders are all welcome.
Delivery
Standard 
Tickets sent out by 1st class Royal Mail within 48 hours of purchase. 

Email – Free 
Tickets sent out via email within 48 hours of purchase.
Insurance

Public liability insurance included.

Restrictions
There is an individual passenger weight restriction of 17 Stone/108 kg. Please contact us if you are above this weight limit and we will try to accommodate you, however you may be required to purchase additional seating space. Minimum passenger age is 2 years. Children under 10 years of age must be accompanied by an adult. We will make every effort to accommodate disabled passengers on these flights, please do contact us to discuss your needs.
Validity
An open-dated flight experience ticket which is valid for 12 months from the date of purchase.